The Disneyland castle, the original Sleeping Beauty Castle, is small, quaint, and will always be my castle of choice. It has a special place in my heart, even after visiting the Magic Kingdom in Walt Disney World. This probably has to do with growing up in California, seeing it change over the years as I visited as a kid, and many more times in my 20's and 30's.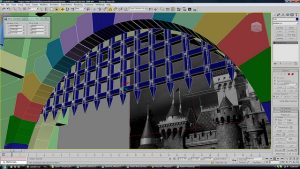 The work on this 3D model began in 2008, and has continued on and off since. This was another one of those projects where I purchased a printed blueprint copy off the internet and scanned it in section by section. One of the problems was that I only had the front elevation, and the architectural design has a ton of depth, detail, and complexity. Every trip to the park resulted in dozens more reference photos and a better understanding of the layout. But my big break came in 2014 when I was asked to work in the Disneyland park over the course of two nights, take exact measurements of most of the castle from an 80ft boom lift, and use the data to create a detailed model of the castle for Disneyland's 60th Anniversary. This was one of the greatest honors and afforded me the most unique view of the castle, one that very, very few people have ever seen.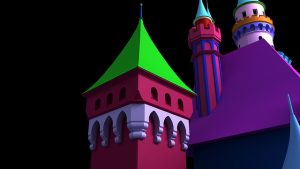 Upon returning home from the park, I refocused, delivered the 3D model to the Walt Disney Co., and continued to work on lower areas of the castle that were not the focus of my paid work. The drawbridge can raise and lower, as well as the portcullis. A few of the remaining elements as of early 2016 are the arches on the back side that lead through the castle at ground level, the walls that connect the castle to stores and dark rides in Fantasyland, and the paved lead-up to the drawbridge.