Haunted Mansion
This is currently the only attraction that I am modeling the exterior AND interior. Another wonderful example of just how complex a ride track can be, and how talented the imagineers were when designing this 'E' Ticket attraction. And I think we can all agree that the best attractions at Disneyland are those that go underground!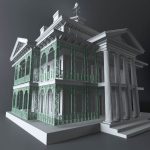 A few years ago, a friend was able to find the CAD drawings created by the company that originally designed the wrought iron for the Haunted Mansion back in the 60's. So far I have four separate elements being used from the top to the bottom of the building. You'll notice one of them had to be hand sketched based on a blurry photo. The element adorns the top railing surrounding the cupola.
I am nearly finished with over 200 hours worth of hand drawing a vector set of blueprints in both color and blue-on-white. They show the fantastic detail of the wrought iron on all levels of the building, along with the beautiful molding around doors and windows.